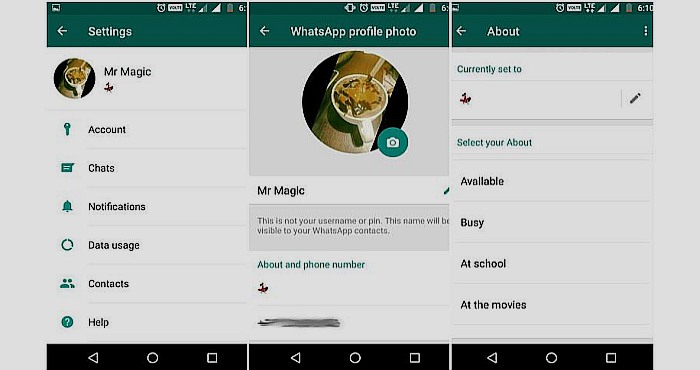 There is good news for the users of WhatsApp; the text status feature is back on Android devices. Users can make an update on the app for the stable Android version 2.17.107 from Google Play Store for getting the feature, for using the old status feature, just hit the three dots present on the top right corner of the app. After this click on the settings, and then on the profile picture. You will see the option of adding text to a status under the About and phone number tab.
Users will get the last status which they updated before WhatsApp removes the feature. It may get varied to a customized option or something like that. The feature is already there for the Android devices, and it is not clear when it will be available for iOS, although WhatsApp has mentioned that the feature will be there for iOS too.
But, the latest update doesn't show that the app is getting away with the disappearance of its text status option where users were used to typing, in a tab and update it. The Snapchat styled app still offers users to upload pictures and videos before they vanish in 24 hours. Also, users can now revolve the profile picture to any direction.
Furthermore, as per a report made by the Android Police, WhatsApp is judging the ability to add GIFs through Google Gboard keypad. This feature is also there for Android users only in WhatsApp beta version, which can be gotten from APK Mirror. You can also download it from the Play Store beta directly. The app kicked out the text status update last month. Thus it failed to impress most of the users. The new status feature has created the mixed responses by the users around the world; many users got disappointed with it before that they would not be able to make the text statuses updates.
WhatsApp, which has got more than 1 billion users globally, often updates its app for introducing users to many new features, recently, it added the feature of video calling. GIF support and call forwarding will be its latest features to come. Its users on iOS can queue texts when the internet disconnects instantly. There is also a new storage using screen along with the capability to share about 30 pictures and videos at a time.